One of Scotland's Great Trails
The Speyside Way is a long distance trail that takes you from Newtonmore in the Cairngorms National Park to Buckie on the Moray Coast.
This is a journey through an ever changing landscape, along the iconic River Spey, and into the heart of whisky country. You can walk or cycle and explore the beautiful Scottish Highlands as you go.
Please note some sections are not suitable for cyclists or horses and there are alternative options to follow. See route section details below.
The big question is, do you journey upstream or downstream?!
---
Speyside Way Online Map
---
Route Sections in the Cairngorms
From its highest point in Newtonmore, The Speyside Way slowly meanders ever so slightly downhill to the coast at Fochabers – so we will be taking you downstream!
The route is an impressive 100.6 miles long and it is perfect for splitting into sections. You get a wonderful day of walking or cycling and plenty of chances to enjoy the culture, heritage and communities of the Highlands. The cafes, guest houses and hotels of the Cairngorms National Park are experts in looking after and recharging Speyside Way adventurers!
If you decide to take the route on two wheels, depending on your capabilities, and appetite for a challenge(!), these sections could be added together and the whole trail will take you less time. Hiring an e-bike is another option – you can take in the hills with a bit of ease and whizz through the miles!
---
Newtonmore, in the heart of Badenoch, is a great starting point for this long distance route. There is a choice of hotel, guest house and self catering accommodation, and the train station has excellent connections from Edinburgh, Glasgow and Inverness.
If you have time, a visit to the amazing Highland Folk Museum is a brilliant way to kick off your adventure, it was the UK's first open air museum and will give you a fascinating glimpse into a Highlanders' life between the 1700's and 1950's.
The first leg of your journey follows a path between Newtonmore and Kingussie – this is another great wee village with plenty of accommodation, shops and a couple of cafes. If you are cycling, Kingussie also boasts two brilliant bike shops.
You will be immersed in history throughout your journey, none more so than Ruthven Barracks; you can almost picture the Government troops who were based here in the Jacobite times of the 1700's. An iconic and imposing landmark.
From Kingussie you will journey on to Kincraig and then Aviemore. The path between Kincraig and Aviemore is quite new and very well maintained, but it does feature some steep sections and quite a few gates – this is where biking with a buddy helps!
Before taking on this section, a stop at the Old Post Office Cafe & Gallery in Kincraig is a must. A friendly welcome, delicious food, awesome coffee and the wonderful art makes it a really special place to stop (always a great idea to check opening times in advance).
---
This section of the route is really family friendly, particularly between Aviemore and Boat of Garten. Here the path takes you out onto open moorland with amazing views of the Cairngorms, followed by birch woodland and then onto pinewood as you approach Boat of Garten.
The Strathspey Steam Train passes this section, and if you are lucky enough to be walking or riding as it chugs by, it is a moment you won't forget – just magic, even more so when there is a Highland carpet of heather! Aviemore Parkrun calls this section of the Speyside Way home – so on a Saturday morning you might be sharing the route with lots of enthusiastic runners. What a lucky bunch to run their 5K amongst such beauty.
Boat of Garten has a fantastic local shop, there are all sorts of lunch goodies and hot drinks served with a lovely welcome. There is also a hotel and golf club if you want to take the weight off for an hour or two. If you fancy an afternoon tea treat, journey on a bit further to Nethy House Cafe in Nethy Bridge – these cakes are the perfect fuel for a Speyside Way adventurer!
---
Before leaving Grantown stop off at KJ's Bothy Bakery, it has an unassuming spot on the industrial estate outside Grantown, but the lovely outside seating area is perfect for a morning cuppa and these tasty treats will fuel your journey in style. The sandwiches are immense and delicious.
Grantown to Ballindalloch could be considered one of the more challenging sections, with undulating tracks and lots of gates and stiles; it also passes through lots of farmland and livestock. Horses and cyclists would have difficulty negotiating the many chain-gates so it is recommended that they use the B9102 between Ballindalloch and Cromdale, on the north bank of the River Spey instead.
---
This is an extra spur to the long distance walk. An out and back – or some people arrange a lift to Tomintoul and a walk back to Ballindalloch. It passes over two climbs, Cairnacay (475 m) and Carn Daimh (570 m). It is very exposed, crossing over high moorland using rough hill tracks. In poor visibility, or snow, excellent navigational skills are required; but in good conditions the views are well worth every step of the climb.
This route takes you by Glenlivet Distillery who were winners of the 'World's Leading Whisky Distillery Tour 2022' at the World Travel Awards – by this point on your journey you have definitely earned a visit here!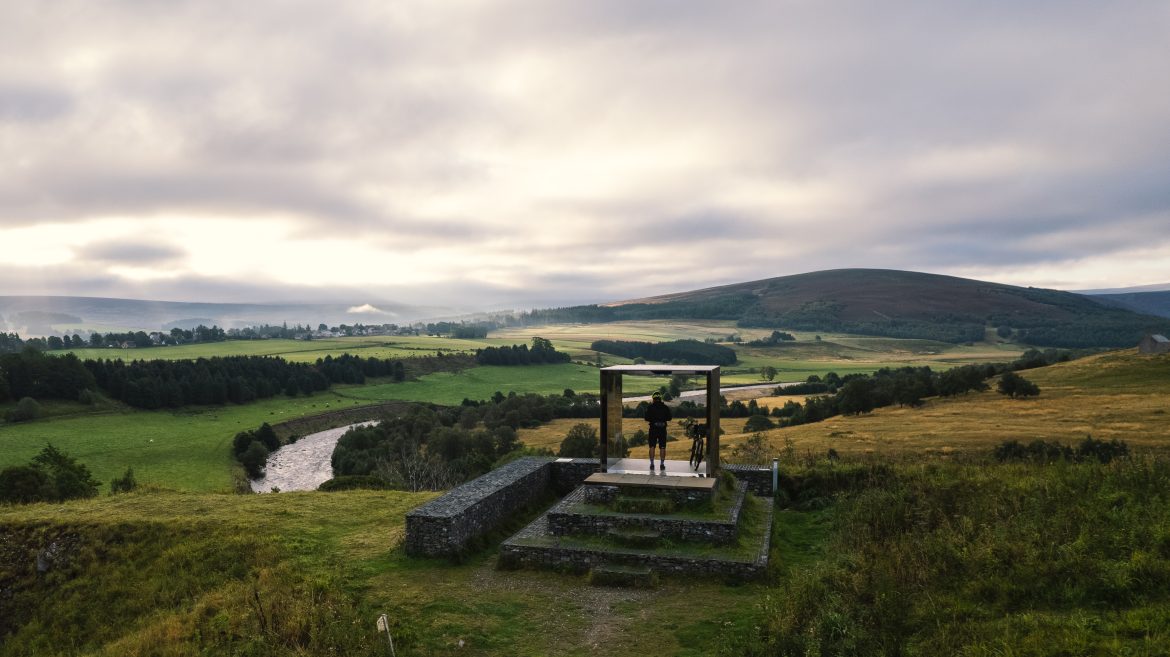 ---
Route Sections in Moray
Leaving the Cairngorms National Park, you enter the Morayshire countryside and you will eventually catch a glimpse of the coast. These sections are flatter and easier going, and it is a fabulous way to end your Highland adventure. Speyside is whisky country with the greatest concentration of malt whisky producers compared to every other whisky producing region. If whisky is your thing, it is definitely worth planning some visits to these iconic distilleries fed by the Spey.
The Cairngorms National Park has one of the most spectacular landscapes in the world. Awash with mountains, glens, lochs, culture, heritage, special habitats, the darkest skies, wonderful people (and red squirrels!).
The Cairngorms will touch your soul; your Speyside Way adventures become Highland memories to saviour.
---
Walking Transfers & Shuttles
Highland Yaks provide walking transfers for many of the brilliant point-to-point walks that Scotland has to offer. One of their favourite routes is the Speyside Way and they can help with a Luggage Transfer service. So whether you are looking to do the entire walk in one or more interested in doing a section at a time, they have you covered.
---
Scenery along the route
---
Businesses who can help you on your Speyside Way adventure