One of the joys of the Cairngorms is its distinctive seasons; you can also easily experience 'four seasons in one day', so it's best to prepare for any weather…
The varied weather has shaped the lush Cairngorms landscapes and every season has its own charm and reason to visit. Check out our blog here about what is distinct about each season in the Park and when to visit.
Whether you're coming to the Cairngorms crossing your fingers for snow or for sun, the best thing to expect is the unexpected, as the weather often changes quickly – especially in mountainous areas.
As the saying goes…
Some like it hot
If you're looking for the warmest weather then that is, obviously, in the summer with the weather experts recommending visiting from early July to mid-August. However, bear in mind that these months are also typically the busiest months in terms of tourism.
It is well worth considering visiting in the 'shoulder' tourist times of Spring and Autumn because the changing seasons are stunning to witness and – even if you visit in summer – good weather is not guaranteed and even July can be chilly.
Top tip: don't forget to pack your jumper and raincoat, whatever time of year you visit! The up-side, especially if you're a budding photographer or Instagrammer, is that the weather is constantly changing and, consequently, this makes for continually dramatic skies.
Some like it dry
The warmest month is not necessarily the driest, when it comes to the Cairngorms. Climate-Data.org, for example, shows that – despite the old adage about showers – the driest month is actually April, with 47mm / 1.9 inches of rainfall. This is compared to an average of 90mm / 3.5 inches in a typical January, which is the coldest month in the Cairngorms.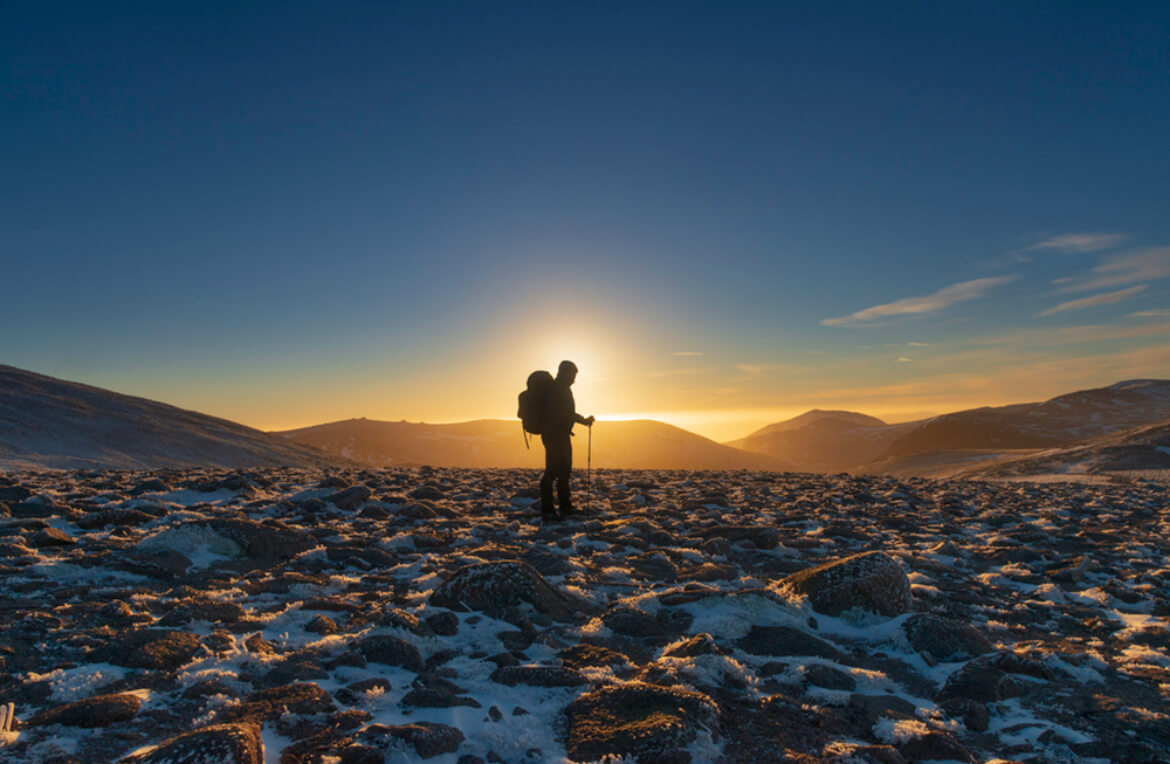 Some like it light
What you'll no doubt notice if you visit in Summer from southern locations is the length of the day in the Cairngorms. The longest day can offer up to around 18 hours of daylight, giving you plenty of time to enjoy the great outdoors. On the flipside, which is great for stargazing, winter nights in December can get down to just under 7 hours.
Some like it to Snow
Avid skiers and snowboarders are glued to our webcams from about November, hopeful that the white stuff will fall soon. Indeed, in good seasons we can get a hefty snow dump in November which often paves the way for a bountiful snowsports season.
However, as with sun and rain, nothing is ever guaranteed in the Cairngorms! Again, according to Weatherspark.com, the snowiest period of the year is from November 14 to April 8, with the most snow falling around January 29. The ski season can start from November and has been known to even run to May in a good year.
"Typically, the snowiest season coincides with the windiest season which runs from October to April…"
Some like to Swim
If you're an avid wild swimmer then you might be interested to know that the water is warmest from June 28 to September 27 (according to Weatherspark.com). But, if you prefer your swimming cold, the cold season runs from December 28 to April 22. See our blog on wild swimming here.
Packing Suggestions – Whatever the season
Waterproof jacket
A good quality jacket with a hood is useful all year round in Scotland. Choose a lighter weight jacket for the warmer seasons and a heavier weight jacket for chillier months.
Walking boots or shoes
Waterproof boots or shoes with soles that have good grip are useful for general walking in the Cairngorms National Park. Make sure you have worn them a few times before setting out to do a longer walk on holiday otherwise the footwear might rub your feet.
If you plan to hire a bike bring trainers or casual footwear that you can wear while cycling.
Walking socks
Walking socks are far more comfortable for wearing with walking boots or shoes.
Walking poles
Walking poles can be a good balancing aid on uneven trails. They have also been proven to lengthen walking endurance and can help to reduce leg muscle soreness.
Rucksack or daypack
It's useful to have a small pack, between 10 and 20 litres in which you can carry spare clothes, food and water while exploring.
Baselayers
If you plan to be fairly active, such as walking or cycling, it's a good idea to have a sports specific baselayer. A baselayer is made of synthetic fabrics or wool (merino).
(Cotton is not advised for wearing as a baselayer when you are active because when you sweat it holds the wet and damp and it will leave you chilly.)
Sports specific baselayers are breathable, therefore allowing sweat to pass through the fabric. Wearing two thinner baselayers will keep you warmer than wearing one thicker layer.
In winter, you can add baselayer leggings as well as a top layer to keep you warm.
Mid-layer
A fleece jacket or a lightweight insulated jacket is very useful as an outer layer. It can also be worn as a mid-layer over a baselayer and underneath a waterproof jacket. You can adjust to suit the weather. Insulated jackets can be made with a synthetic or down filling.
---
Just in case items
These are items that you might need but you might not. They can be carried in your daypack just in case.
Gloves and hat: For keeping hands and head warm in cooler months.
Sunhat and sun cream: Summer can be warm in Scotland.
Sunglasses: The sun can be bright all year round.
Midge repellent spray: Especially for summer.
Midge head net: This is useful if you are outdoors in the early morning or at dusk when midges are more likely to be about.
Umbrella: Very useful for wet weather.
Water bottle: To ensure you remain properly hydrated. Ask pubs and cafes to refill it if you run out.
Camera: You can use a camera on a mobile phone or bring a separate camera.